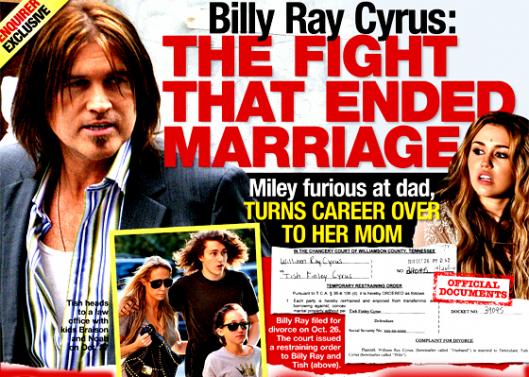 Rumors of an affair between Tish Cyrus and Bret Michaels have faded away, as both side immediately shot down this silly talk.
But The National Enquirer has come out with a new basis for Tish's recent divorce from husband Billy Ray, a split that could find the ex-couple battling over close to $100 million.
Billy Ray looked cool and collected at the CMAs this week. But that was apparently not the case last month.
The break-up is allegedly the result of a furious fight between the pair, as the tabloid claims Billy Ray grounded Miley Cyrus for talking back to him.
Tish intervened, reportedly undermined her husband - and the result was a rage-filled Billy Ray trying to knock down his wife's bedroom door out of anger for her actions.
"Billy screamed terrible things at Tish," says an insider. "Tish locked herself in her bedroom to escape Billy Ray's wrath. And he pounded on the door screaming: 'Come out here and talk to me, bitch! You let everyone run wild when I'm not here! It's going to STOP!'"
As always, it's important to point out the questionable source here. But it's also important to remember: The National Enquirer was actually, incredibly nominated for a Pulitzer Prize this year, based on its accurate reporting of the John Edward/Rielle Hunter affair.
Does that mean every story it reports on is valid? Not even close. But it does mean we need to take its accusations a bit more seriously than we did in the past. Are you buying this one?